Powercom Tools SA
Powercom Tools SA is one of the most consolidated and renowned companies in the world for stringing equipment and tools manufacturing. It was established in 1891 and it is nowadays located in Switzerland where presses, motorized hydraulic pumps and self-gripping clamps are produced.
As global competition increases, manufacturers are faced with constant demands to provide higher quality and better service at lower cost and in less time. Quality, performance and customer oriented attitude are of paramount importance to Powercom Tools SA.
Powercom Tools SA is committed to playing a proactive role in today world market by offering its customers better value for money and first class stringing equipment.
We certify the quality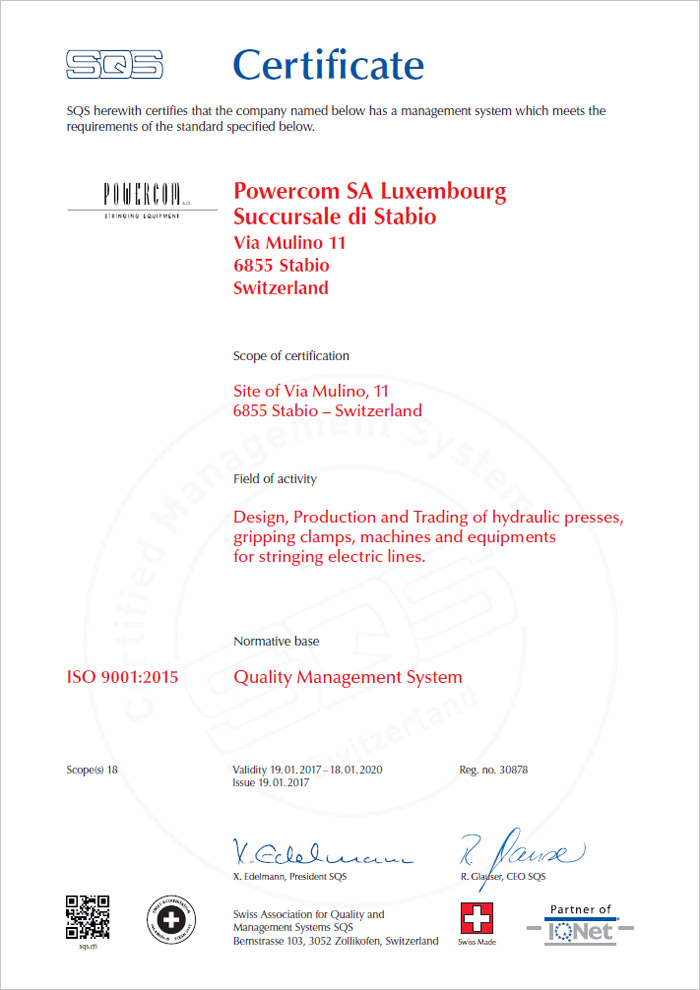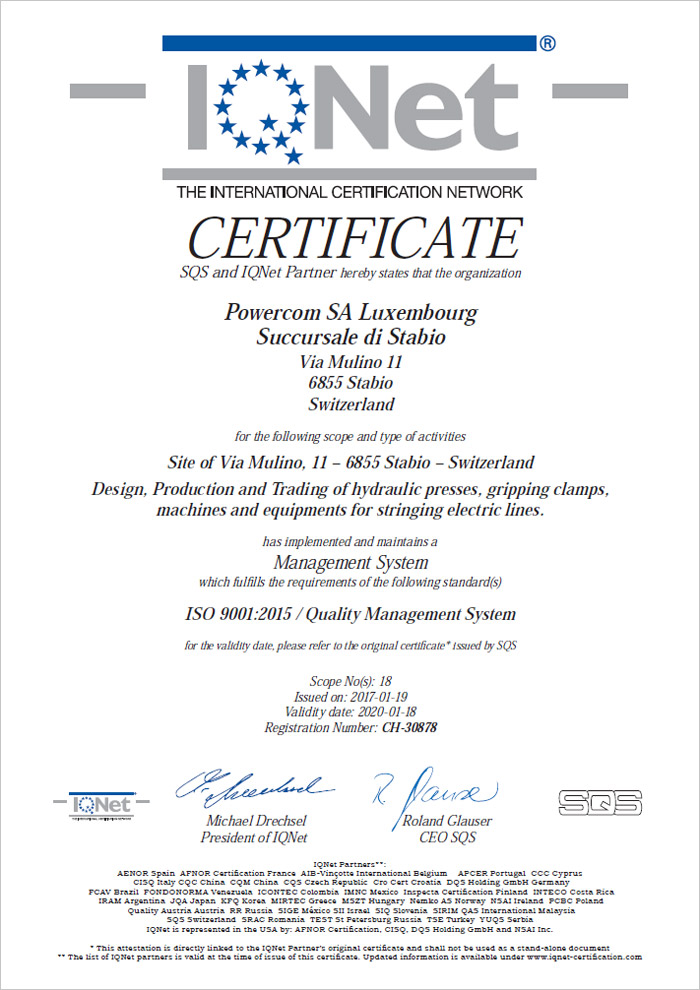 Countries where Powercom equipment operates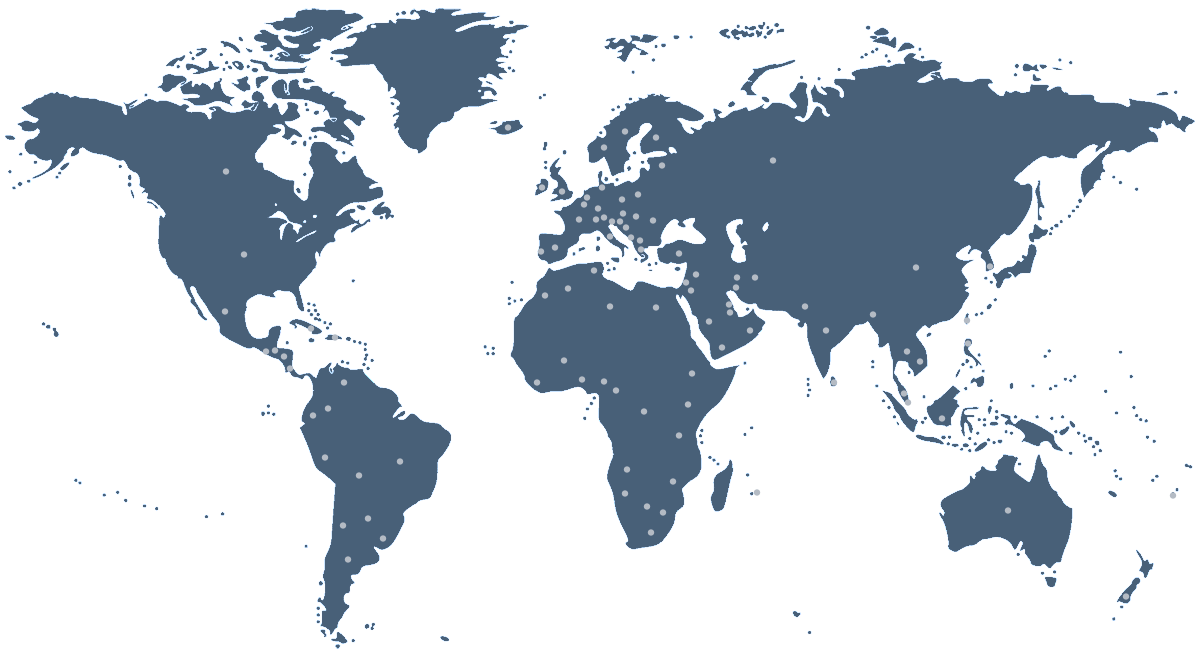 ALBANIA
ALGERIA
ANGOLA
ARGENTINA
AUSTRALIA
AUSTRIA
BAHRAIN
BANGLADESH
BELGIUM
BOLIVIA
BOSNIA-HERCEGOVINA
BOTSWANA
BRAZIL
BULGARIA
CAMEROON
CANADA
CHILE
CINA
COLOMBIA
CONGO
COSTA RICA
CROATIA
CUBA
CYPRUS
DENMARK
DOMINICAN REPUBLIC
ECUADOR
EGYPT
EL SALVADOR
ETHIOPIA
FIJI
FINLAND
FRANCE
GERMANY
GHANA
GREECE
GUATEMALA
HONDURAS
HUNGARY
ICELAND
INDIA
INDONESIA
IRAN
IRAQ
IRELAND
ITALY
JORDAN
KENYA
KOREA SOUTH
KUWAIT
LEBANON
LIBYA
LUXEMBOURG
MACEDONIA
MALAYSIA
MALI
MALTA
MAURITIUS
MEXICO
MOLDAVIA
MOROCCO
MOZAMBIQUE
NAMIBIA
NETHERLANDS
NEW ZEALAND
NIGERIA
NORWAY
OMAN
PAKISTAN
PARAGUAY
PERU
PHILIPPINES
POLAND
PORTUGAL
QATAR
ROMANIA
RUSSIA
SAUDI ARABIA
SERBIA
SIERRA LEONE
SINGAPORE
SLOVENIA
SOUTH AFRICA
SPAIN
SRI LANKA
SWEDEN
SWITZERLAND
SYRIA
TAIWAN
TANZANIA
THAILAND
TUNISIA
TURKEY
UNITED ARAB EMIRATES
UNITED KINGDOM
U.S.A.
URUGUAY
VENEZUELA
VIETNAM
YEMEN
ZIMBABWE
ALBANIA
ALGERIA
ANGOLA
ARGENTINA
AUSTRALIA
AUSTRIA
BAHRAIN
BANGLADESH
BELGIUM
BOLIVIA
BOSNIA-HERCEGOVINA
BOTSWANA
BRAZIL
BULGARIA
CAMEROON
CANADA
CHILE
CINA
COLOMBIA
CONGO
COSTA RICA
CROATIA
CUBA
CYPRUS
DENMARK
DOMINICAN REPUBLIC
ECUADOR
EGYPT
EL SALVADOR
ETHIOPIA
FIJI
FINLAND
FRANCE
GERMANY
GHANA
GREECE
GUATEMALA
HONDURAS
HUNGARY
ICELAND
INDIA
INDONESIA
IRAN
IRAQ
IRELAND
ITALY
JORDAN
KENYA
KOREA SOUTH
KUWAIT
LEBANON
LIBYA
LUXEMBOURG
MACEDONIA
MALAYSIA
MALI
MALTA
MAURITIUS
MEXICO
MOLDAVIA
MOROCCO
MOZAMBIQUE
NAMIBIA
NETHERLANDS
NEW ZEALAND
NIGERIA
NORWAY
OMAN
PAKISTAN
PARAGUAY
PERU
PHILIPPINES
POLAND
PORTUGAL
QATAR
ROMANIA
RUSSIA
SAUDI ARABIA
SERBIA
SIERRA LEONE
SINGAPORE
SLOVENIA
SOUTH AFRICA
SPAIN
SRI LANKA
SWEDEN
SWITZERLAND
SYRIA
TAIWAN
TANZANIA
THAILAND
TUNISIA
TURKEY
UNITED ARAB EMIRATES
UNITED KINGDOM
U.S.A.
URUGUAY
VENEZUELA
VIETNAM
YEMEN
ZIMBABWE